How much are you willing to invest in friendship?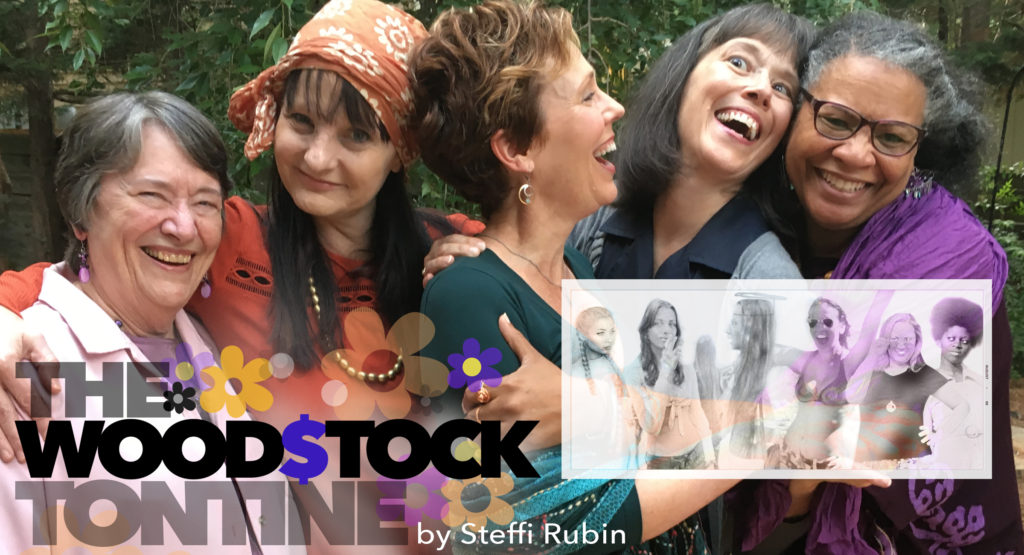 In August 1969, at the Woodstock Music Festival, Roberta, BJ, Trudy, Veronika and Shelley were brought together by Valerie, an outgoing free soul who was unafraid to talk to anyone, anywhere, about anything. Now, 50 years later, Valerie is dead, and the gals are sensing that their bond is in danger. With a wide variety of life experiences and world views, what will keep them from drifting apart?
An early iteration of "The Woodstock Tontine" was produced as part of the Women's Theatre Fringe, in Raleigh, NC 2017. It featured Lisa Leonard, Judy McCord, Jennifer Kuzma, Julie Oliver and Verlene Oates. An updated version was performed in a staged reading at the Road Theatre Company's Summer Playwrights Festival, North Hollywood, CA. The reading featured Laura Gardener*, Julia Sanford*, Amy Tolsky*, Janet Chamberlain and Mary Sala. (*courtesy of Actor's Equity Assn.)

To read the script or reviews of THE WOOD$TOCK TONTINE, go to my page on New Play Exchange.
.
.